Destination Guide
New Zealand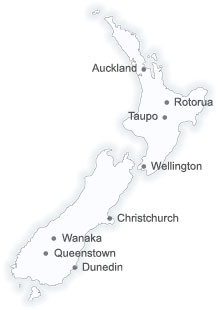 Overview
The diversity of New Zealand makes it a truly rich destination, as compelling to locals as for travellers from further afield.
Go skiing down south in Queenstown, or game-fishing in the northernmost Bay of Isles. Kick back on the beach and enjoy the perfect weather in Tauranga, or relax on the spectacular Auckland Harbour, surely one of the most beautiful harbours in the world. Discover magical parks and gardens in Christchurch, or get back even further to nature deep on the South Island, renowned for its tramping tracks. If extreme activities are your thing, you're in luck too: our own Queenstown is the adventure capital of the world, and boasts both the first and the largest bungy-jump in the world.
From the islands in the north to the magnificent peaks and fjords of the spectacular South Island, New Zealand never fails to impress - and it's all in your back yard.
Top New Zealand Travel Spots
All New Zealand Destination Guides